REALTORS® Make NAR RPAC Hall of Fame
April 9, 2018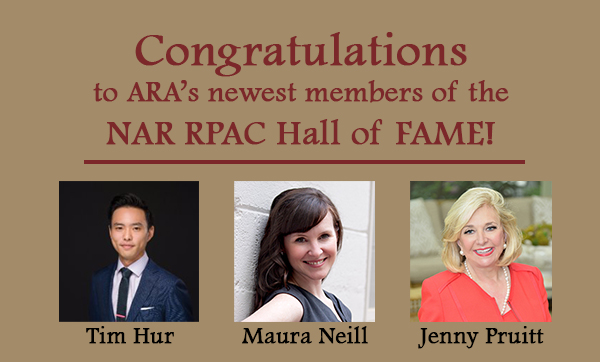 Congratulations to Tim Hur, Maura Neill and Jenny Pruitt for being inducted into the latest class of NAR RPAC Hall of Fame!
The NAR RPAC Hall of Fame recognizes dedicated members whose RPAC investments total an aggregate of at least $25,000. Members are inducted at member meetings in May in Washington, D.C. and are recognized with a lapel pin, an inscription of their name on a plaque on the National Association of Realtors®' Washington, D.C. building rooftop, and a plaque commemorating their support.
The first RPAC Hall of Fame class was inducted in 2002 and contained only 22 Realtors®. Across the country, nearly 700 individuals have been inducted into the RPAC Hall of Fame. We applaud Tim, Maura and Jenny for their dedication and stewardship to the Realtor® cause!