Sustainability News Item
August 17, 2020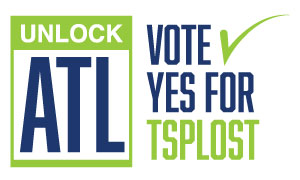 Metro Atlanta is one of the leading destinations for growth in the entire country. Unfortunately, traffic and congestion is one of the region's biggest problems. Elected officials from every part of Fulton County have worked tirelessly on a plan to help ease traffic, reduce congestion and, in the City of Atlanta, enhance MARTA.
On the November 8th ballot, voters in Atlanta and Fulton County will be deciding on 5-year Special Purpose Local Option Sales Tax for Transportation Purposes (T-SPLOST) and City of Atlanta voters will also vote on a MARTA transit sales tax. A "yes" vote will significantly improve the traffic, congestion, infrastructure and enhance MARTA. Unlike the previous T-SPLOST referendum, the proceeds raised in any given area, go directly to benefit that area's projects. That means money raised in Sandy Springs will benefit Sandy Springs and the same throughout the various cities in Fulton County.
Voters in Atlanta will have two questions:
Shall an additional .4% in sales tax be collected for infrastructure and road improvements?
Shall an additional .5% in sales tax be collected for the purpose of significantly expanding and enhancing MARTA transit service in the City of Atlanta?
The remaining parts of Fulton County, will be asked:
Shall an additional .75% sales tax be collected in part of Fulton County outside of the City of Atlanta for five years for the purpose of transportation improvements and congestion reduction?
Why it Matters?
This year's T-SPLOST referendum will be the most significant vote for the future of the Atlanta Metropolitan Region. The leadership of the Atlanta REALTORS® Association and the Atlanta Commercial Board of REALTORS® have joined with our affiliated real estate organizations across the metro area to support this important referendum.
Click here for more information on T-SPLOST.
Fulton County Voters:
City of Atlanta Voters:
Follow #UNLOCKATL

Suggested Posts to Share with Your Network:
The ARA and ACBR leadership, along with the help of Skyline PR Firm, have created an "Unlock ATL" campaign. We ask that you consider sharing this message through your social media network to encourage voters to support the T-SPLOST.

#TSPLOST will help all Atlantans @UnlockATL - See which projects are in your area: www.atlcbr.com/unlockatl

How will #TSPLOST @UnlockATL? Check out how you can improve your neighborhood and commute! Interactive map: https://www.google.com/maps/d/u/0/viewer?mid=1nKKH_5gTCMOWf2GvETgxj4-iffA

#VoteYESforTSPLOST to improve roads and @UnlockATL traffic

Tired of your commute? Get out of traffic and @UnlockATL by voting YES for #TSPLOST on Nov. 8